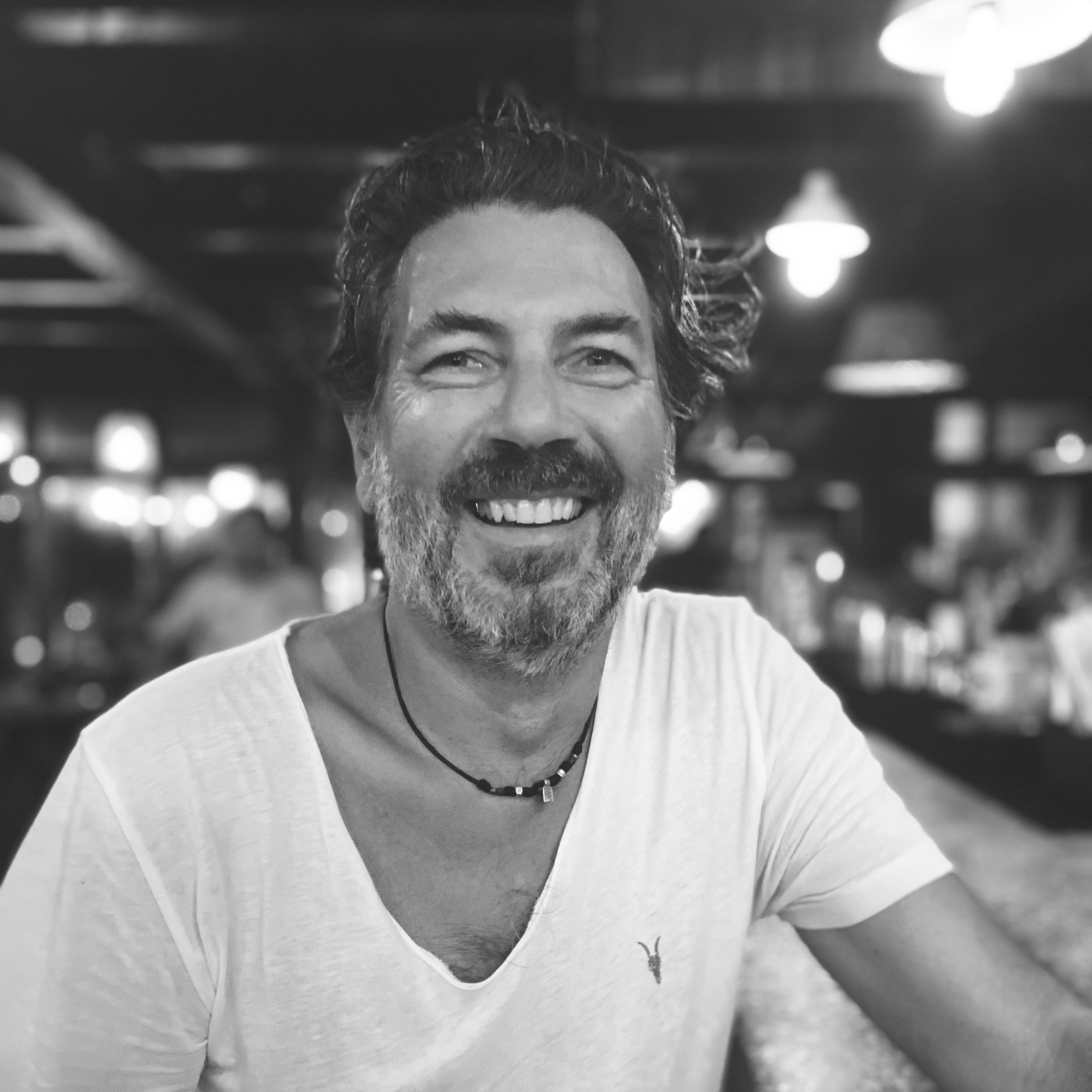 Nicolas Neidhardt, composer and music producer
Nicolas is a trilingual composer and music producer. He was born in Germany in the 60s. After studying classical piano and playing in school bands, he moved to Paris in 1983 to become a professional musician and composer. Studying jazz piano and arrangement at the C.I.M. school in Paris and, simultaneously, taking private classical lessons with multi-award-winning concert pianist Françoise Buffet, he pursued the goal of getting the best of both worlds.
His early interest in music software and synthesizers opened the doors to Paris' recording studios in the mid-eighties, where he started to work as a programmer, keyboard player and arranger and found himself working next door to Prince, Eurythmics, and Tina Turner. One of his early connections to A-List musicians was drummer Manu Katché, who took the time to play on Nicolas' productions while recording and touring with Peter Gabriel, Sting and Tears for Fears. 
Already a busy composer for commercials and songs, Nicolas joined the band Le Groupe which was the back up band for talents such as Seal, Tom Jones, Dee-Dee Bridgewater, Nina Hagen, Vanessa Paradis, and Willy De Ville. Le Groupe was also the house band for the daily Canal+ prime-time talk show, Nulle Part Ailleurs. Nicolas performed more than 1500 shows live on French national tv including a yearly 2-week performance at the Cannes Film Festival.
In 1996, Nicolas composed the song, Dieu m'a donné la foi, his first N°1 Hit in France, and one of the ten best-selling records of the year. Later in 1999, Nicolas opened his recording studio in Montmartre and created his first production and publishing company, Aktion Entertainment.
Over the years, Nicolas has written music for commercials such as Carte Noire, Peugeot, Renault, and Evian, and collaborated on films, such as Venus Beauty Institute, Absolutely Fabulous, and Baby Blues. He has produced albums for French shooting-stars Jenifer and M. Pokora and was the main composer for one of the most successful French crime series, La Crim'.
In 2007, he recorded and produced his first album as a solo artist, Moments, featuring his passion for simple, emotional scoring by performing solo on piano.
Upon moving to the US in 2009, Nicolas played at New York City's Webster Hall and clubs in Brooklyn and the East Village while starting to work on his second solo album in a funky Lower East Side recording studio. Here, he first collaborated with U.S. director Marianne Hettinger on Saint Vitus Dance, which received the "Honorable Mention" Award at the Ventura Film Festival in 2011.
When Nicolas arrived in California, he met film producer Steve Chasman and his wife, French actress and singer Nadia Fares and produced Nadia's album, Momentum.
Back in his native France, the animated film Titeuf, le Film (part of the selection for the Césars 2012), co-scored by Nicolas, was a big success. The soundtrack includes James Blunt, Johnny Hallyday and Jean-Jaques Goldman. Then came the audience-record breaking documentary Primaires Socialistes, l'improbable scénario, scored by Nicolas and broadcasted on Canal+ in 2011. It got nominated for the FIPA 2012.
SONY Music Classical released two of Nicolas' solo piano tracks as part of a compilation featuring Ryuichi Sakamoto and Philip Glass in early 2012.
Nicolas lives in Los Angeles, CA where he became a successful composer for trailer music such as Blade Runner 2049, Jurassic World, Wonder Woman, The Goldfinch and Hunters. In 2022, alongside with co-composer Marvin McMahon, Nicolas won 2 Clio awards and 2 nominations for the Golden Trailer Awards for the BLONDE campaign. 
Nicolas runs 2 music companies, Go West Music (2014) and RIVAL (2023) and has established partnerships with several industry leaders.
He also created many epic orchestral versions of famous songs such as Nirvana's 'Smells like Teen Spirit', Pink Floyd's 'Welcome to the Machine', David Bowie's 'Heroes', The Weeknds' 'In the Night' and Cliff Martinez' soundtrack to 'Drive'. 
Complete list of credits :